Om Qred
Qred är ett internationellt FinTech scale-up bolag som erbjuder finansiering för entreprenörer och småföretagare i Sverige, Finland, Danmark, Nederländerna, Belgien och Brasilien. Sedan starten 2015 har Qred lånat ut över 3 miljarder kronor till investeringar och rörelsekapital hos småföretag. Genom att använda en helt digitaliserad process erbjuder vi våra kunder snabba, rättvisa och bekväma lån för att hjälpa småföretagare i att växa i sin verksamhet. Just nu är vi 100+ kollegor som arbetar på företaget, med huvudkontor i centrala Stockholm.  
I mars 2020 utsåg Financial Times Qred till Sveriges snabbast växande företag och ett av de 10 snabbast växande företagen i Europa. I år ligger vi kvar på listan och är riktigt stolta över vad vi åstadkommit hittills men detta är bara början!
Din roll på Qred Factoring
Med lång bakgrund av företagslån tar vi nu över marknaden för fakturaköp. För att kunna möta den kraftigt ökande efterfrågan från våra kunder så söker vi två nya medarbetare till vårt team. Du får möjligheten att arbeta nära erfarna och drivna entreprenörer och det finns mycket goda möjligheter att utvecklas i takt med företagets ambitiösa tillväxtplaner.  
Rollen som Account Manager kommer bland annat att innefatta:
Att förstå och analysera de potentiella kundernas affär och behov, för att kunna presentera en helhetslösning inför kreditbeslut
Att driva affärerna självständigt från bokning, planering och genomförande av kundbesök och presentationer till säljavslut
Att skapa och arbeta med ett strukturerat säljarbete
Att bygga och vidareutveckla långsiktiga kundrelationer
Nära samarbete med övriga avdelningar
Vem är du?
Våra medarbetare är vår viktigaste tillgång och vi söker någon som är lika driven som oss till att göra affärer och hjälpa företagare och deras verksamheter! I den här rollen kommer vi att personliga egenskaper att väga tungt. 
För att trivas i rollen tror vi bland annat att du:
Har tidigare erfarenhet från liknande roll, gärna inom finans/factoring
Motiveras och drivs av att göra affärer och skapa nöjda kunder, samt att arbeta mot uppsatta resultatmål
Har god kunskap och förståelse för finansiering till företag
Har en stark egen motor och inre drivkraft
Har förmågan att arbeta självständigt
Är relationsskapande och förtroendeingivande och sätter kunden i fokus
Är flexibel och anpassningsbar i en föränderlig miljö
Varför Qred?
Vi brinner för att hjälpa småföretag och för att hjälpa varandra. Vi innoverar ständigt och strävar efter enkelhet och kreativitet när vi arbetar tillsammans med en platt och öppen organisation där vi uppmuntrar att testa nya idéer och nya, mer effektiva, sätt att arbeta. Vi har en transparent affärsmodell gentemot våra kunder och strävar efter transparent på alla nivåer i vår organisation. Genom öppenhet bygger vi en sund och framgångsrik organisation där våra medarbetare kan uppnå enastående resultat.  Vi strävar mot att behålla vår familjära känsla, trots att vi växer i den takt vi gör. Alla kollegor på Qred ska känna sig välkomna och känna att de tillhör något meningsfullt. 
Intresserad? 
Det här är en heltidstjänst med placering på vårt kontor i Malmö. Startdatum är flexibelt och rätt kandidat kan börja omgående. För frågor om rollen, vänligen kontakta Daniel Lindh på daniel.lindh@qred.com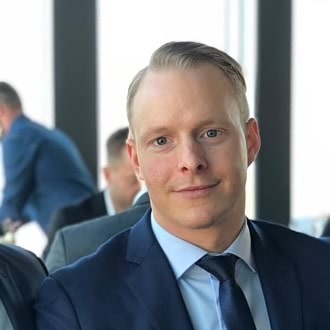 Contact
Daniel
Head of Qred Factoring – Factoring
Related jobs
Our culture
We believe encouraged and empowered employees can achieve outstanding results
We have a passion to succeed together and strive for the best for our customers
We are a multi-disciplinary team who bring creativity and energy to a market ripe for change
We have fun! It is a flat environment where you are encouraged to contribute ideas
We are a diverse and growing team, where you can quickly make an impact
About Qred
Qred is an international FinTech scale-up that specializes in digital financing solutions for small businesses, with operations in the Nordics, Benelux and Brazil. We are passionate about helping small businesses thrive and grow, by providing them with business loans, factoring and credit cards. Right now we're in an exciting phase of our journey that focuses on growth through smart product development and technology fuelled by international expansion.

Already working at Qred?
Let's recruit together and find your next colleague.