Kundtjänst/kredithandläggare
Om Qred
Qred är ett internationellt FinTech scale-up bolag som erbjuder finansiering för entreprenörer och småföretagare i Sverige, Finland, Danmark, Nederländerna, Belgien och Brasilien. Genom att använda en helt digitaliserad process erbjuder vi våra kunder snabba, rättvisa och bekväma lån för att hjälpa småföretagare i att växa i sin verksamhet. Just nu är vi 130 kollegor som arbetar på företaget, med huvudkontor i centrala Stockholm och Qred Factoring i Malmö. Läs mer om Qred Factoring här!
I mars 2020 utsåg Financial Times Qred till Sveriges snabbast växande företag och ett av de 10 snabbast växande företagen i Europa. 2021 låg vi kvar på listan och är riktigt stolta över vad vi åstadkommit hittills men detta är bara början!
Din roll på Qred Factoring 
Med lång bakgrund av företagslån tar vi nu över marknaden för fakturaköp. För att kunna möta den kraftigt ökande efterfrågan från våra kunder så söker vi en ny medarbetare till vårt team. Du får möjligheten att arbeta nära erfarna och drivna entreprenörer och det finns mycket goda möjligheter att utvecklas i takt med företagets ambitiösa tillväxtplaner. Hos Qred kommer du ha en av de viktigaste positionerna i hela bolaget. Arbetsuppgifterna kommer vara varierande såsom: 
Svara på inkommande mail, telefonsamtal från både kunder och kunders kunder
Kreditbedömning - ta kreditbeslut tillsammans med vår kreditchef för ev finansiering av fordringar 
Bekräftelser - vissa fall där vi bekräftar fakturan med mottagaren per mail eller telefon
Utbetalningar - du kommer sköta dagliga utbetalningar till våra kunder 
Vem är du?  
Våra medarbetare är vår viktigaste tillgång och vi söker någon som är lika driven som oss till att göra affärer och hjälpa företagare och deras verksamheter. 
Vi ser gärna att du har erfarenhet av kreditbedömning (dock inget krav)
Ett sinne för kundservice och att alltid göra det lilla extra för att få en nöjd kund
Kundkontakt kommer självklart för dig och att kommunicera ut kreditbeslut till kund ser du som en rolig utmaning. 
God kommunikativ förmåga och kan formulera dig i både tal och skrift på svenska och engelska 
Intresserad?
Det här är en heltidstjänst med placering på vårt kontor i Malmö. Startdatum är flexibelt och den rätta kandidaten kan börja omgående. För frågor om rollen, vänligen kontakta Daniel Lindh på daniel.lindh@qred.com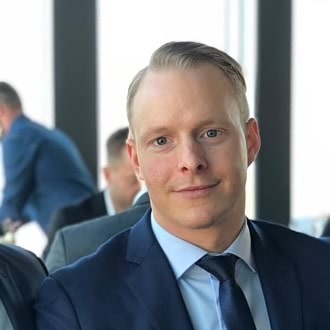 Contact
Daniel
Head of Qred Factoring – Factoring
Related jobs
Our culture
We believe encouraged and empowered employees can achieve outstanding results
We have a passion to succeed together and strive for the best for our customers
We are a multi-disciplinary team who bring creativity and energy to a market ripe for change
We have fun! It is a flat environment where you are encouraged to contribute ideas
We are a diverse and growing team, where you can quickly make an impact
About Qred
Qred is an international FinTech scale-up that specializes in digital financing solutions for small businesses, with operations in the Nordics, Benelux and Brazil. We are passionate about helping small businesses thrive and grow, by providing them with business loans, factoring and credit cards. Right now we're in an exciting phase of our journey that focuses on growth through smart product development and technology fuelled by international expansion.

Already working at Qred?
Let's recruit together and find your next colleague.