Om Qred

I mars 2020 utsåg Financial Times Qred till Sveriges snabbast växande företag och ett av de 10 snabbast växande företagen i Europa. År 2021 ligger vi kvar på listan och är riktigt stolta över vad vi åstadkommit hittills men detta är bara början!
Qred är ett internationellt FinTech scale-up bolag som erbjuder finansiering för entreprenörer och småföretagare i Sverige, Finland, Danmark, Nederländerna, Belgien och Brasilien. Genom att använda en helt digitaliserad process erbjuder vi våra kunder företagslån, fakturaköp och kreditkort för att hjälpa småföretagare i att växa sin verksamhet. Just nu är vi 140 kollegor, med huvudkontor i centrala Stockholm och Qred Factoring i Malmö. Läs mer om Qred Factoring här!

Din roll på Qred Factoring
Vi söker just nu Pre-collection Agents till vårt team i Malmö, som tillsammans med Collection Agent kommer att arbeta för att se till att Qred's kunder får den bästa servicen och stödet i sin fakturahantering.
Exempel på arbetsuppgifter:
Kontakta fakturamottagare i pre-collectionskedet dvs innan fakturan hanteras vidare av vår inkassoavdelning. All kontakt sker per telefon.
Identifiera och analysera eventuella risker för att effektivt kunna påskynda hantering av dessa.
Vi söker dig som

Det är inget krav men det är önskvärt att du är studerande inom juridik, ekonomi eller liknande. 
Utöver detta är det viktigt att du är kommunikativ i svenska och engelska, både i tal och skrift. 
Ingen tidigare erfarenhet krävs men vi lägger stor vikt på personlighet och kommunikativa förmåga. Du kommer ingå i vårt Collection-team som kommer stötta dig i din roll.  För att trivas i rollen ser vi att du framför allt har en genuin servicekänsla och trivs i en supporterande roll. Vidare är du öppen och nyfiken som person samt har en vilja att jobba hårt och ständigt lära dig. 
Varför Qred?
Vi är ett mångkulturellt och internationellt företag där vi alla lägger in kreativitet, energi och stor passion i allt vi gör. Det är en rolig start up-atmosfär i en scale up-miljö med kort väg från idé till handling. Vi erbjuder flexibilitet, utveckling, roliga teamaktiviteter och härliga frukostar, samt after works. Vi är ett snabbfotat företag där det händer mycket på kort tid, så vi ser därför att du ska trivas i denna miljö och ha en flexibel och positiv attityd, samt vara bekväm med att ha telefonen som ditt primära arbetsredskap.
Intresserad?
Det här är en heltidstjänst med placering på vårt kontor i Malmö. Startdatum är flexibelt och den rätta kandidaten kan börja omgående. 
Qred älskar mångfald och diskriminerar inte baserat på kön, könsöverskridande identitet eller uttryck, etnisk tillhörighet, religion eller annan trosuppfattning, funktionsvariation, sexuell läggning eller ålder.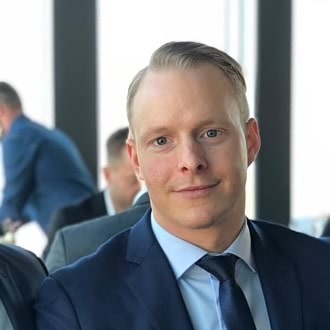 Contact
Daniel
Head of Qred Factoring – Factoring
Related jobs
Our culture
We believe encouraged and empowered employees can achieve outstanding results
We have a passion to succeed together and strive for the best for our customers
We are a multi-disciplinary team who bring creativity and energy to a market ripe for change
We have fun! It is a flat environment where you are encouraged to contribute ideas
We are a diverse and growing team, where you can quickly make an impact
About Qred
Qred is an international FinTech scale-up that specializes in digital financing solutions for small businesses, with operations in the Nordics, Benelux and Brazil. We are passionate about helping small businesses thrive and grow, by providing them with business loans, factoring and credit cards. Right now we're in an exciting phase of our journey that focuses on growth through smart product development and technology fuelled by international expansion.

Already working at Qred?
Let's recruit together and find your next colleague.